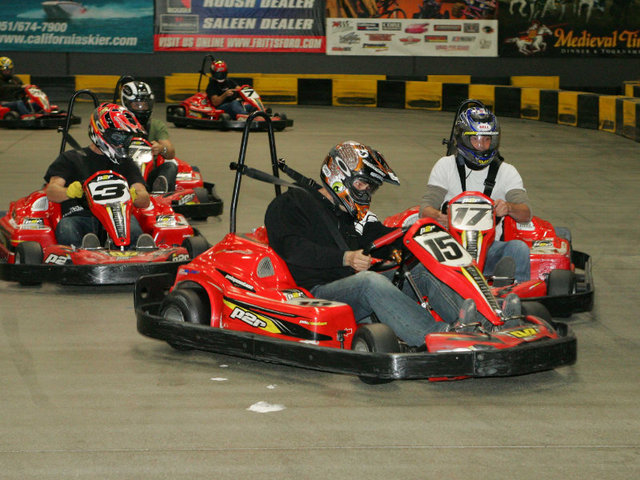 Team Endurance Race
200 Laps of Non-Stop Racing
Rates
Team - $195
Minimum of 5 Teams. Up to 5 people per team.
---
Duration
90 minutes
---
About
200 laps of non-stop racing. Each team is allowed 1-5 drivers (3-5 recommended) who compete for laps of non-stop action. The unique pit stop element makes this really exciting, and strategy plays 3 key roles much like in other forms of auto racing.
The event starts with a driver briefing followed by a 10-lap qualifying race. Your team picks one driver to represent your team for this qualifying race. Whoever puts in the fastest individual lap time during the 10 lap qualifier is put in the "Pole Position" which defines the grid line-up for the start of the Endurance Race. Once all the teams are gridded up on the track, the green flag drops and the Endurance Race officially starts.
Each team needs to manage how many laps each driver has done and to work out the strategically of when best to pit and switch drivers. During the pit procedure, your driver will need to speed walk over and tag the hand of another waiting teammate who will hop in another go kart and continue racing.
The event is over when the first team completes 200 laps. Award Ceremony Immediately following the racing, each team is given a Speedsheet® print-out of the event showing overall lap times. Then all teams make their way over to the podium for the Award Ceremony where 1st, 2nd & 3rd place teams are announced and they each take their place on the podium for their photo opportunity
---
Reservation Benefits
Reserved Date & Time: When you make a reservation at Pole Position Raceway, we guarantee a date and time on the race track. Something thats not guaranteed for walk-in customers.
Private Racing: The general public will not be mixed in your races. Your event races will be private.
Event Host: Your Private Event Host is there for you anytime during your event.